The concept of technical quality is the fusion of
"comfort", "energy efficiency" and "safety"
Koizumi as an environment solutions enterprise,creates unique LED lights for shops and market facilities.
We aim to create a pleasant space through constant implementation of technological innovations intended to enhance high efficiency and safety.
Koizumi's Core Theme of Development

Natural light in a high quality high power LED
and optical reflector.
High illuminance, flat and high efficiency light distribution is realized thanks to a combination of high power COB (Chip on Board) and optically-designed reflector.Multi-shadows are eliminated achieving natural and beautiful light.

COB LED package

Conventional
LED multiple type
Uniform light of LED light guide plate
with light-emitting surface
LEDs located on sides of the light guide plate repeat diffused reflectance inside the light guide plate, emitting high efficiency light with high uniformity ratio. Through a unique optical design with special microfabrication, an eye-friendly soft light can be acquired.
Compared with conventional light sources, this is a compact size LED. With the unique optic design, light enters the light guide plate with zero waste, thus making a thin efficient device.
Use of excellent acrylic resinfor optical properties for thepanel. Our highly precise silkprinting technologies controllight direction to producelight-emitting surface withhigh uniformity ratio.

Mixing chamber lens + Reflector

Collimated lens
High accuracy light dispersion control
The original mixing chamber lens and light-concentrating reflector design realizes solid light distribution. (Patent pending, registered design)
Achievement of natural and soft light with unique collimated lens.
LED color rendering property
KOIZUMI's pursuit of high color rendering light that provides even greater beauty of illumination for products in showcases or stores. For the color rendering index (Ra), which indicates that the more index value is close to 100, the more original color of the illuminated object is reproduced, KOIZUMI LED realizes a high color rendering of Ra92. The difficulty of conventional LED's in displaying vivid light now becomes possible, bringing out the beauty possessed by the shop and the products.

timer control
Waste lighting is saved by reducing or turning off illumination by timer.
daylight sensor
Lighting illumination is reduced to ensure moderate illuminance.
Dimming + light color control
It makes retail shop window and facade possible to be such as a display of renewal in accordance with the events and seasonal.
DALI CONTROL
International lighting control standard allows a comfortable lighting space in energy saving.
PRO SAVER Ⅱ
Realization of major energy conservation through the continuous automatic dimming.
LUTRON
A trusted light design brand

Koizumi taking into account the size and functionality requirements of space,
proposes the optimum control system for each space.

The heat dissipation of the fin is used as an accent,
the form is simple, compact and refined.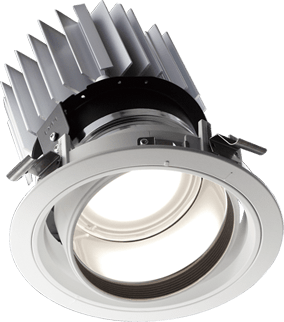 "spark series" with high power and compact design,
and the same brightness as HID